LANDSCAPE IMAGINARY


In that strange Spring of 2020 when the first lockdown was announced, Daniel & Clara unexpectedly found themselves residents of Mersea Island on the Essex coast. As they explored the landscapes of their new home, they began LANDSCAPE IMAGINARY - a project exploring the relationship between psychology and place, looking at how we imbue places with meaning, and how in turn landscape, weather and the environment impact on our state of mind and imagination.

This resulted in a new body of work including moving image, photographs and mail art.

Throughout 2022 they presented a series of exhibitions, talks, workshops and screenings across the East of England, engaging audiences with their work and research.



WORKS

On The Island
moving image
2021
En Plein Air
moving image
2020
Red Letters
mail art
2022
From Here To The End
polaroid diptychs
2020-ongoing
Yellow Letters
mail art
2020
ONLINE RESEARCH EVENTS

Artist Talk
March 2021
In this illustrated talk, Daniel & Clara speak about their current projects and the importance of place in their work, revealing how particular landscapes have influenced their creative process and imagination.
Expanded Research Event
June 2021
An illustrated journey through Daniel & Clara's research into the relationship between place and the imagination with art historian Susan Owens, artists Andrew & Eden Kötting, Ben Rivers, and Stella Keen, director of the Jeff Keen Archive.
EXHIBITIONS & EVENTS

Mersea Island
Hamilton MAS, Felixstowe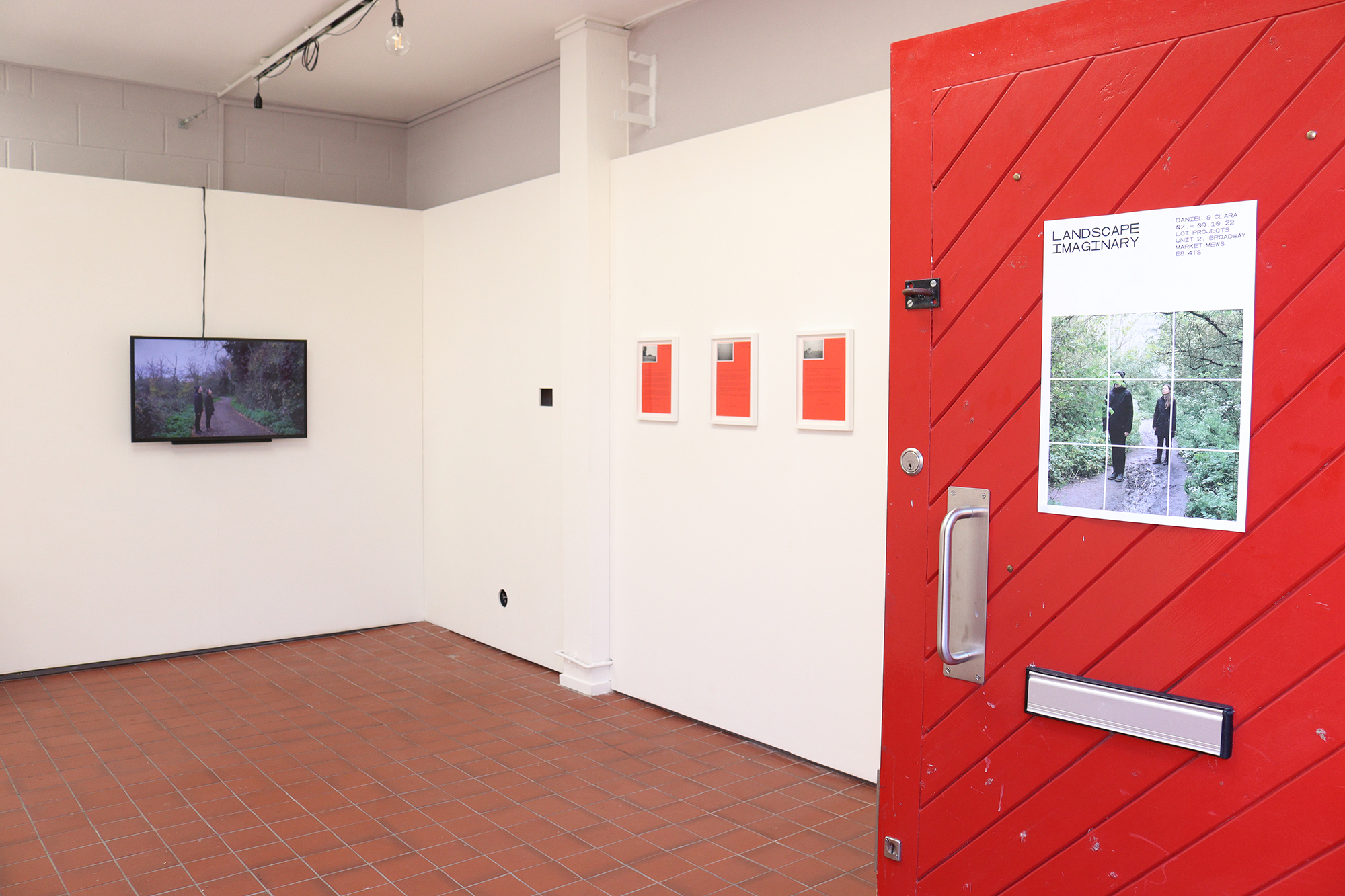 Lot Projects, London
303 Projects, Lowestoft
303 Projects, Lowestoft
303 Projects, Lowestoft


Between May and October 2022, Landscape Imaginary was taken on tour across the East of England, with exhibitions and screenings at Metal Southend, Jaywick Martello Tower, Firstsite, Groundwork Gallery, 303 Projects, Hamilton MAS and Lot Projects. These were accompanied by talks, workshops and walks which took audiences deeper into the ideas and creative processes behind the work.



Artist talk with Daniel & Clara chaired by curator Jess Twyman on Mersea Island
Ben Rivers, Daniel & Clara, Toby Tatum, Sean Vicary following the screening of their films on Mersea Island
Rachel Poulton, children's workshops on Mersea Island
MAP


Alongside the launch exhibition on Mersea Island, Daniel & Clara created a map for self-guided walks at the nearby Cudmore Grove country park, which invites you to take a journey of sensorial re-imagining of the landscape.



BOOK

The project was accompanied by the publication of the first comprehensive monograph on Daniel & Clara's work. It includes essays by Richard Ashrowan, Susan Owens, Rosy Gray and Adam Scovell, a foreword by Amanda Geitner, and a new interview with Daniel & Clara by Jess Twyman.

Designed by Flaminia Rossi and Samantha Whetton at Design Print Bind.




EXPLORE ESSEX MAGAZINE




This project has been made possible with funding from Arts Council England, Essex County Council, East Anglia Art Fund and Firstsite Collector's Group.